Welcome to the Cracker Storytelling Festival Page!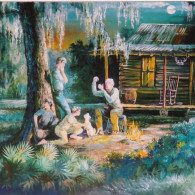 The Cracker Storytelling Festival Committee will be celebrating their 27th year. We are excited to have a select group of Florida storytellers to bring you an exciting and entertaining day with your students. This event is local, fits curriculum for all grade levels and is very inexpensive. We are seeking donations from local businesses to continue the bus fee grant we started two years ago.  There will be more information regarding the grant in the fall.
Carrie Sue Ayvar entertains listeners with her Spanglish style and tales from many cultures.
Tamara Green uses vivid costumes and dramatic presentations to keep listeners on the edge of their seats.
Mitchell O'Rear engages audiences with his dramatic storytelling.
Katie Adams weaves stories with her voice and movements.
Cheryl Floyd uses her heritage to weave great Cajun stories that will conjure up images and sounds unlike any other.
Pat Nease keeps listeners wide eyed with silly, willy, chilly stories.
Mark Koruschak will take us into the past with his cow camp site demonstrations and tales of the past.
Robin Schulte tells unique stories in a unique way that will keep you spellbound and hanging on every word
Kim Rivers and Nancy Crockford are known to many as StoryMusic. StoryMusic is live music intertwined with storytelling's oral tradition.
Judge Nelson Bailey will teach you about what made our state what it is…cracker heritage…history and more.
 "TVSHKA" Van V. Samuels, Native American Flute player and Storyteller.
Hank Mattson is a working Cracker Cowboy Poet who lives in Florida.
The event is open to the public both days, but Friday is generally full of students and chaperones.
Storytelling is part of the curriculum for all grade levels and our tellers tell stories to all age groups.  Friday October 9th, is the day that we have set aside for the schools to come and partake in this wonderful opportunity to learn without knowing it. If you have any questions or concerns you may contact Terrie at 647-4716, 57955 or by email at terrie.sullivan@polk-fl.net
Cracker Storytelling Festival
Homeland Heritage Park
Homeland, Florida 33847
October 9-10, 2015
9 am – 3  pm each day
Admission $6.00 adults $4.00 students
Ghost Stories
Bartow Public Library
Friday October 9, 2015, 7-9 PM
Cost is Adult $4.00; Children $2.00
Whip Cracking Contest
Saturday October 10, 2015, 12:30 pm
Entry Fee $10.00; cash and trophy prizes
Call 863-647-4716 for information
Register Today!
You can register now by returning the form that is linked below to Terrie Sullivan at Library Media Services, Jim Miles PDC. We are expecting a great turn out this year so don't delay in pre-registering.
Teacher Application for Cracker 2015
Information Letter For Schools 2015